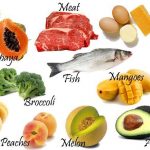 Lack of proper nutrition, pollution, application of chemical-laden products and stress are some of the major causes of hair fall as well as hair loss. To stop hair loss, the main remedy you should focus on is your diet. Almost every skin care issue in your body originates due to the lack of proper diet and nutrition. No external product would be perfect to cure hair loss if your body is not receiving proper nutrition. A balanced diet plays a vital role in skin care. Therefore, instead of trying harsh hair loss treatments, you should prefer for a healthy diet and adjust your lifestyle to take care of your skin and hair. Here are six most effective food items that can help you prevent hair loss.
Eggs:
An egg is rich in nutrients like zinc, sulfur, iron, phosphorous, selenium and iodine. It could be very beneficial in preventing hair fall and hair related issues, as it is also rich in vitamin B-1, B-2, B-12, and biotin. Eating eggs on a regular basis could prevent hair loss to a great extent. Since the egg is rich in biotin, it not only prevents hair fall but also stimulates hair growth. Besides including eggs in your daily diet, you can also use it as a hair pack and apply as a home treatment to nourish hair follicles and scalp.
Almonds:
The best way to control hair fall is to eat foods that are rich in magnesium. Almonds are known as a rich source of magnesium and you can consume it on regular basis. Men and women both can suffer from hair loss due to the deficiency of magnesium. You should eat 4-5 almonds daily to get a high amount of manganese and vitamin E, which play an important role in preventing hair loss. Almond oil is enriched with many health benefits as it strengthens the hair cuticles, nourishes your scalp and helps to reduce hair fall.
Salmon:
Salmon is a fatty fish that has some essential nutrients for treating hair loss. It is a rich source of omega-3 fatty acid, which works effectively on the hair shaft and the cell membrane of your scalp. You should consume salmon regularly to promote hair growth and decrease hair fall effectively. It can also nourish the scalp deeply. Your body doesn't produce omega 3 acid, so you should include such foods in your diet that are rich in this nutrient.
Spinach:
Spinach is enriched with many health benefits because of being a potent source of Vitamin A and Vitamin C. Both of these vitamins are essential for preventing hair fall and increasing the hair growth. Vitamin A works great on the scalp. Those who are experiencing high hair fall should include spinach in their regular diets. It also contains omega-3 acid, potassium, magnesium, calcium, iron, and other nutrients. These nutrients are helpful to get a healthy scalp and increase hair count. You can eat spinach according to your taste; you can make a salad of it or cook it as a dish. You can also take a spinach drink.
Carrots:
Carrots are also one of the best foods to treat hair loss. This vegetable is known as a rich source of beta-carotene which plays an important role in controlling hair fall. Drinking a glass of carrot juice daily can give you a visible result in a short period. It can stimulate hair growth and reduce hair fall by strengthening follicles. You can eat carrot either in the salad or as a soup.
Seafood:
Seafood is enriched with a high amount of zinc, sulfur, and fatty acid which help to prevent hair fall and hair pattern baldness. These nutrients play a vital role in stimulating hair growth without rendering any side effects. It also helps to keep your scalp and hair healthy and enhances skin glow as well.