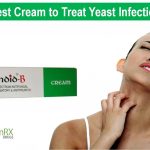 Candid B creamcombines Clotrimazole and Beclomethasone to treat yeast infection. It is an antifungal drug normally applied in the cause of fungal infections such as oral thrush, ringworm, and vaginal yeast infections. The topical preparation is also applied to take care of athlete's foot and jock itch.
Candid B cream is a medicinal ointment prescribed by the dermatologist for the management of skin irritation caused by fungal infections. The medicine is manufactured by Glenmark Pharmaceuticals Limited and is supplied in the package of 20 gm tube.
Clotrimazole and beclomethasone are the two active constituents that make the topical formulation effective in preventing the growth of fungus thereby reducing redness, swelling, and inflammation associated with fungal infections. Beclomethasone is a corticosteroid used topically to reduce the inflammation of the skin. It works by destroying the fungal cells in the body. Whereas, Clotrimazole is an antifungal drug, which acts by stopping the activity of fungi and preventing its growth. This way the medication stops the spreading of irritation and infection on the skin, vagina, penis, and groin area.
Usage and Precautions
Candid B cream should be used as directed by your dermatologist. Do not forget to inform your dermatologist about your general health condition, physical health status, and current medications (if you are using). This will help your dermatologist to determine the correct dose for you.
Check these precautionary measures while using Candid B cream for yeast infections:
Apply the cream only to the area which is affected by the fungal infection. Take a pea size and apply a thin layer all over the affected area. Rub gently and allow the medication to get absorbed into the skin.
Apply the cream 2 to 3 times daily to get rid of the redness and inflammation associated with the infection.
If you miss the application, do not apply twice just to make for the dose. Applying more is not a trick to make your medication work fast.
Be careful while applying this antifungal cream around the delicate area of your eyes. The eyes should always be protected from the exposure to any medicinal substance.
The medicine is for external use only, do not take it orally.
Always check the expiry date before purchasing any medication. Do not give this topical formulation to anyone who has the same symptoms.
Store the 20 gm tube at room temperature. Avoid exposure to heat, moisture, and sunlight.
Before applying Candid B cream, consult your dermatologist if you have any of the following:
History of fungal vaginitis
Vaginal ulcers or vulvar ulcers
Any of you or your partner has any sexually transmitted diseases (STDs)
If you are pregnant or planning to conceive
Allergies to antifungal medications
Abnormal or irregular vaginal bleeding
Do not combine two medicinal products; if you are doing this, you are at risk of developing drug interactions. You can buy candid b cream online from Premiumrxdrugs