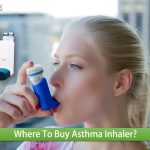 A variety of asthma inhalers and medications are available to help control asthma symptoms. Finding the one suitable for you and using it correctly can help you get the chance to treat asthma attacks.
If you are a parent, you do not want to worry about your child's breathing. But if your child has asthma, which can cause breathing issues that interfere with sleep, school, and daily activities. Childhood asthma affects more than 8% of children in the US. Asthma is a common respiratory tract illness affecting millions of people daily. There is no for asthma, a chronic lung disorder defined as inflammation of the airways of the lungs. It is responsible for unscheduled healthcare usage ad missed workdays. The lung condition is an appropriate immune response, much like an environmental allergy, to a triggering factor that induces bronchial hyperactivity constriction with increased mucous secretion into the airways. Fortunately, several treatment options are available to reduce eth inflammation and prevent episodes of asthma. Without appropriate treatment, your respiratory condition may worsen as you get older, and the episodes increase in frequency and severity. Asthma treatment aims to improve symptoms quickly, prevent attacks, and improve the overall quality of life.
What medications are available to manage Asthma?
Several drug classes are utilized to treat and manage chronic asthma to improve symptoms such as wheezing, coughing, or breathlessness. The types of asthma inhalers one needs depend on your age, symptoms, severity of your symptoms, and side effects associated with the drug. Asthma tends to change over time; therefore, it is important to work closely with your doctor to track your symptoms and adjust doses under a doctor's supervision, if needed. Finding the right treatment to manage asthma may require trying different options that work for you over time.
Asthma medication falls into two categories-
Quick-relief medication- These medicines are also known as fast-acting relievers meant to be used as needed for rapid, short term relief of symptoms. Quick-relief medications are prescribed to prevent and treat an asthma attack. Asthalin inhaler contains salbutamol which belongs to a class of drugs known as fast-acting bronchodilators. Its usage makes it easier for air to get in and out.
Long term control medication- These medications are specially formulated for regular use to control chronic symptoms and prevent symptoms and prevent asthma episodes. Long term medications are the most important type of treatment for most people with asthma. Aerocort inhaler is a combination of beclomethasone and levosalbutamol cause relaxation of smooth muscles in airways and makes it easy for you to breathe.
From where to purchase asthma medicine?
Asthma is manageable if you have your inhaler drug by your side. To find the best inhaler for you, consult a doctor. Asthma inhalers are available to buy from numerous online pharmacies. You can get a rapid review of asthma treatment options from home and get a prescription for inhaler drugs from your doctor. Find the best price details on companies selling asthma medications. You can purchase either branded or generic inhalers online. Asthma inhalers and oral medications are available to buy online at the leading online pharmacy, Premiumrxdrugs. Choose your asthma inhaler online, order it, and get your asthma treatment delivered to your home. You can order an Asthalin inhaler from premium drugs. The asthma inhaler is used to provide quick relief from symptoms of asthma.
How you use your Inhaler?
The appropriate technique is essential when using an inhaler to make sure the medicine reaches the airways directly. The only thing that is responsible for causing the disease is bronchial irritation.
Follow the doctor's directions when it comes to using your asthma inhaler. You may be asked to directly keep the inhaler's mouthpiece in your mouth, 1 or 2 inches away from your mouth, or using a spacer attachment. Follow these steps for using an inhaler properly.
Remove the cap from the mouthpiece and check if it any residue left, or you find any blockages.
Before use, make sure you shake the inhaler for a few seconds.
Take a deep breath while exhaling the medication, whether you are standing or sitting, begin to breathe in slowly with the inhaler and press the button. Continue breathing in after pressing the button.
Hold your breath for about 5 to 8 seconds, then exhale slowly with your mouth.
If you have successfully inhaled the medicine by following an appropriate technique, you should not get a strong chemical taste in your mouth that bothers you, although a slight aftertaste is normal.
If you need an asthma inhaler, premiumrxdrugs can help you get you the rescue or preventer inhaler drugs that can control your asthma symptoms. Get up to a 20% discount on asthma medication online.