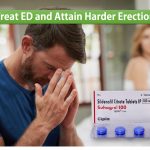 Harder erection plays a key role in an adult's life. How and why a hard erection is important can only be understood by a man or a couple who is suffering from this issue. In simple language, people address this issue like erectile dysfunction and showing worrisome is very natural to treat or get rid of it. Men face this issue usually when they age around 40 or above, but it does not mean that men below 40 have nothing to do with it. Erection issues can be faced by younger due to performance anxiety and in older for improving longevity during intercourse. The idea is to figure out whether you are dealing with ED problem less than ideal or it has become a regular occurrence.
Male arousal is referred to as a complex process because it involves many factors that work together, i.e., brain, muscles, nerves, emotions, hormones, and blood vessels. ED can occur because of many reasons, including physical or psychological and sometimes both.
The common symptoms of erectile dysfunctions are 1) trouble getting an erection 2) trouble keeping an erection and 3) reduced sexual desire. If you are amongst one who is not satisfied with your erection, then this page is for you. This article will help you to understand the key reasons that create difficulty in achieving no or harder erection and the possibilities to deal with it. Keep on reading to know more about the facts and solutions to get rid of ED issues.
Key and Possible Reasons for ED
Physical Reasons – Heart disease, high blood pressure, high cholesterol, obesity, diabetes, clogged blood vessels, certain medications, access usage of tobacco and alcohol, sleeping issues, low testosterone, enlarged prostate, scar tissue inside the penis, previous injuries or surgeries that affect the pelvic or spinal cord area.
Psychological Reasons – As we all know that the brain plays a key role in triggering our emotions, hormones, and physical events that create feelings, desire, lust, and excitement in our body. When certain things (the psychological one) interfere with a sexual feeling it can cause, impact or worsen your arousal or firm erection. The psychological reasons include stress, mental health issues, depression, anxiety, financial issues, relationship problems, poor communication or other concerns.
Other Reasons – This segment includes premature ejaculation, delayed ejaculation, or anorgasmia (the inability to achieve orgasm after ample stimulation).
Natural Ways to Treat ED and Attain Harder Erection
Maintain a healthy weight – Maintaining balanced body weight is a key to combat many health issues, including ED. Experts suggest that overweight brings many health issues that can affect a life badly, i.e., diabetes, it can cause nerve damage, which generates orgasm and erect penis.
Talk to your partner – Sometimes you forget to see the differences or communication gap take place between you and your partner. The feeling of togetherness is an affectional bond that sparks love and wants from your partner. Spend time in engaging talks with your partner to break the communication gap between you two. Sort out the pity issues (if any) to avoid unnecessary stress that may affect the intimacy to reach your arousal.
Try new things on a bed – To break the monotonous try new positions with your partner to add spice in your sexual relationship. Stay more focused on pleasure, foreplay and sex rather thinking about the performance.
Limit Alcohol and Tobacco – The intake of alcohol and tobacco is not that bad if you are taking in moderate quantity. It would best if you controlled the frequency of your alcohol and tobacco intake to avoid severe health issues, including erectile dysfunction.
Eat Healthily – Develop your eating habits healthily to provide required nutrients to your body. Add fruits (especially avocado, dates, watermelon, papaya, and citrus), vegetables (i.e., red-yellow-green pepper, carrots, tomatoes, spinach, onion and garlic), whole grains, legumes, a cup of coffee, and lean chicken only.
Regular Exercise – Most people find it difficult to exercise regularly due to their different reasons. Regular exercise is important for our overall health from tip to toe. If you find it hard to exercise, then consider a brisk walk of 4 km daily.
Treatment Options to get Harder Erections
The treatment varies on your health condition. You may require no treatment, single treatment or combination treatment. A consultation from a doctor is a must in order to select the right way to have medicines. You doctor will analyze your health conditions before prescribing any medicine to you; he may also ask you to undergo certain tests to identify the possible cause of your erection issues. Some popular oral medications that stimulate blood flow to the penis are sildenafil suhagra, tadalafil, and vardenafil. Apart from medication, testosterone therapy, surgery, vacuum pump, etc. are some of the alternates that people opt if their condition does not show any significant improvement. You can order erectile dysfunction medicine suhagra 100mg online from premiumrxdrugs to get the hard erection.