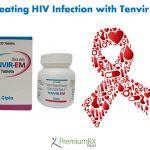 HIV medication has been discovered to decrease the amount of Human immunodeficiency virus in the body. These medications can also help with antiviral drugs; these effectively prevent the multiplication of the virus in the body and strengthen the immune system to fight against the disease.
Tenvir EM for HIV
Tenvir EM is a combination drug consisting of two active pharmaceutical ingredients, namely, Emtricitabine and Tenofovir Disoproxil Fumarate. Both are antiviral drugs and are specially prescribed to treat HIV infection and to reduce the chances of getting an infection. For HIV treatment, this combination drug is given along with other HIV drugs to prevent the virus (HIV) from spreading or multiplying in the body. It is also effective in preventing AIDS (Acquired Immunodeficiency Syndrome).  HIV is known to weaken the immune system by specifically attacking the CD4+ cells. These cells are required to fight infection and disease. Once these cells are damaged, it can lead to life-threatening infections. If the damage is in excess, it can result in AIDS. Tenvir EM is a medicine that effectively prevents the multiplication as well as the spread of the virus in the body, keeping the virus down to low levels to help the CD4+ cells. This ultimately results in recovering and reduction in the disease progression.
This antiretroviral agent should always be used with safer sex practice to reduce the chances of getting infected. It is specially made for adults who are at high risk of getting an infection. High-risk population includes male-female or male-male partners, where one of each partner is HIV infected. Also, avoid using or sharing needles with others as the virus can transfer through blood transfusion via needles.
The actives in the medication
Tenvir- EM is composed of two active ingredients that are Emtricitabine and Tenofovir Disoproxil Fumarate. They work against HIV by inhibiting the enzyme required by the virus to multiply and make copies of it. Both are equally effective in controlling the HIV infection, thereby improving a patient's quality of life. These pharmaceutical agents lower your risk of complications associated with HIV such as cancers, or new infections. Though, the combination drug is not a cure for HIV and does not prevent the spread of HIV through blood contamination or making sexual contacts without using contraceptive measures.
Usage information for Tenvir-EM
The medication is for oral administration. Take it once daily before or after consuming food. Consult a physician before buying the medication as its dosage depends on your medical condition, renal function, and response to treatment.
The medication is recommended to take in combination with other HIV medicines. Continue taking it with your other HIV drug exactly as directed by your physician. If you have any doubt about how to use the medication, consider consulting your physician. Without having words with your physician, you are not allowed to change or stop the medication. You are not supposed to take less of this drug than prescribed.  Skipping or changing doses with the approval of the physician can cause the amount of virus to increase in the body or make the infection more difficult to treat. Visit your physician's place to refill your prescription to make sure that you do not run out of the medication.
Adverse Effects
Patients musing Tenvir EM may encounter unwanted effects such as stomach pain, insomnia, diarrhea, vomiting, nausea, headaches, dizziness, and strange dreams. One can also experience more severe side effects which may include tremors, lower back pain, mood changes, unexplained weight loss, joint pain, signs of new infection, or overactive thyroid etc.