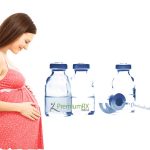 Zyhcg injection is a hormone that assists the egg in woman's ovary for proper development. It is used for stimulating the production of the egg during the process of ovulation. Moreover, it is beneficial for treating infertility in women, increasing sperm count in men, and treating pituitary gland disorder in young boys. The medicine is used as an injection to inject into a muscle.
Benefits of using Zyhcg 5000 Injection
Buy Zyhcg injection, human chorionic gonadotropin, which is produced in the placenta of pregnant women and is effective in treating infertility in women and men. Women with gonadotropin hormone deficiency and ovulation problem use HCG shot and improve their chances of conceiving. These are the most common reported uses of HCG shots, but still, you are not allowed to use the injection for these purposes without spoking to your physician.
Fertility issues in women- Gynaecologists may prescribe Zyhcg injection to treat infertility especially in those women who have not undergone menopause, but not able to conceive due to hormonal imbalances in the body.
Fertility problems in men- It effectively treats infertility problems in men that appear due to lack of specific hormone present in the body.
For treating cryptorchidism- The HCG shots benefits male children in which one of both the testes is not descended into the scrotal sac.
The active ingredient in 5000 IU injection is human chorionic gonadotropin. It is injected to stimulate the production of androgens from the testes.
Frequency to use Zyhcg Injection
Generally, patients are advised to use HCG injection once in three days as it is the most common frequency of using this medicine. It is mandatory to follow your physician's advice on how often you need to use this 5000 IU injection. The injection can be administered at any time of the day. However, this may not be the condition with you, your physician may suggest a specific time for you to use the injection. So, follow your physician's advice on when to use the medicine.
Some medicines cannot be discontinued immediately because of side effects. Please have words with your physician before you decide to stop the uses of medicine. If you are finding any problem, he/she may give specific recommendations for your health.
What precautions need to be taken while using Zyhcg Injection?
Before using this HCG injection, let your physician knows the complete list of medications that you have been using, or have used in the past including all those prescription, non-prescription, and herbal supplements. You should also tell your physician about the pre-existing medical conditions, allergies and also your physician should also be aware of your current health status. Use the medicine as directed by your physician and follow all the instructions given by him/her. The dosage is generally based on condition, age, and other related factors. So, it is essential to consult a physician before using this HCG shot. Tell your physician if your condition worsens even after regularly following the appropriate dosing regimen prescribed by your physician. Some things to remember are given below:
Let your physician know about your pregnancy status, also let him/her know if you are breastfeeding
Inform your physician if you have a history of allergic reaction with human chorionic gonadotropin
Your physician must be aware of your health status including a history of kidney disorder, premature puberty of asthma, or heart disease.
Your physician will not ask you to use HCG injection if you have allergic reactions, prostate cancer, and precocious puberty
Other Important Information
If you miss a dose, inject as soon as possible. If you don't remember for the entire day or if it is close to the time of your next injection, skip the missed dose and follow your regular dosing regimen. Do not inject more than the recommended time as this can have a negative impact on your health. Regularly missing doses means no positive effects of the medicine, you may find yourself at the same place from where you have started, so consult your physician if you are regularly missing a dose. He/she will suggest changes in your dosing schedule, or a new schedule compensate for the missed doses.
Overdose can be dangerous, so make sure you are not receiving more than the prescribed amount. Keep one thing in mind that taking more medicines don't help to improve your symptoms quickly; it may only increase your risk of having side effects. If you suspect an overdose, immediately visit your nearest health care center. Also, do not share your medications, with someone who is even experiencing the same symptoms. This may increase the chances of overdosing. Always check the expiry date before using Zyhcg injection.
Please consult your physician for more information regarding the use of HCG shots and ask for advice if you are unwell or sick even after using the medicine.