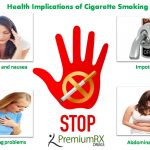 Cigarette smoking is a preventable cause of morbidity and mortality worldwide. Half of a million people deaths per year in the United States due to cancer or breathing problems caused by tobacco inhalation. Nicotine is the key ingredient that is habit forming or causes addiction. Stress, anxiety, depression, peer and social pressure are few factors that make the people intended to smoking. Cigarette smoking has excellent health implications like:

• Lung, mouth and cervix cancer
• Abdominal ulcers
• Impotence
• Breathing problems
• Chronic pancreatitis
• Hyperlipidemia
• Cataract and macular degeneration
• Dizziness and nausea
To prevent all these conditions, one should quit smoking. Quitting smoking is not an easy task for an addicted person; he has to be very patient as it is not a one time job. It's a long process which requires a lot of effort and support from family or friends. Self-monitoring is the first step in smoking cessation. A smoker should identify the triggering elements that lead to cigarette smoking. Jot down the things which you experience when you smoke or when you don't smoke. Systematically, reduce the number of cigarettes you smoke. Maintain a memoir in which the benefits of quitting smoking should be written and try to read that at least twice a day. One can even involve himself in recreational activities and avoid the company of people who smoke. To avoid withdrawal symptoms drugs like Varenicline tablets, nicotine patches and chewing gums are available in the market, and they also help in decreasing craving for cigarette smoking.