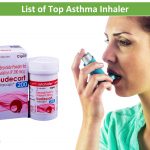 Asthma medications can provide quick relief from symptoms and help control the respiratory condition in the long term. Asthma is a long-term disorder of the lungs, which causes your airways to get inflamed and narrow, making it harder to breathe. If you or your loved ones have asthma, you should be aware of the best treatments for short term relief as well as long term control. There is no cure for asthma, but several treatments are available to prevent symptoms and treat them when they appear. If the condition is left untreated, it may worsen as you age, with asthma episodes increasing in frequency and severity. The goal of asthma treatment is to improve symptoms quickly, prevent episodes, and improve activity levels. The treatment your health care specialist prescribed to treat your symptoms will likely depend on your age, type of asthma, the severity of your condition as well as your body' response to therapies. Finding the right medicine to control your respiratory symptoms may require trying various medications to see which best works for you.
Asthma inhalers help deliver medicine to the airways in the lungs.
Inhalers are an ideal treatment option for asthma patients who deliver medicines directly to the airways that help prevent an asthma attack and relieve symptoms during an asthma episode. Check out the best inhaler drugs for asthma below:
Asthalin Rotacaps: Asthalin Rotacaps are capsules that contain salbutamol as the active ingredient. Salbutamol belongs to a group of drugs known as beta-2 adrenoreceptor agonists. Doctors may prescribe it to prevent exercise-induced bronchospasm in patients four years of age and older. It effectively treats signs of asthma and chronic obstructive pulmonary disease (COPD)such as wheezing, coughing and shortness of breath. The medicine is for inhalation purposes only. The capsules should not be swallowed. To relieve acute episodes of bronchospasm and prevent allergen- or exercise-induced bronchospasm, one rotacap as a single dose is sufficient. Rotacaps are meant to insert into the rotacap hole of a Rotahaler. Hold the mouthpiece between your teeth, close lips tightly and breathe in through the mouth rapidly. You can continue to use this Rotahaler daily for up to six months under medical guidance.
Ventolin Inhaler: Ventolin inhaler prevents and treats asthma and chronic obstructive pulmonary disease (COPD) symptoms. The symptoms caused by these breathing problems include coughing, wheezing, and shortness of breath. Ventolin inhaler contains salbutamol which is effective in preventing asthma brought on by exercise. It is a quick-relief medication that belongs to a class of medications known as bronchodilators. It works in the airways by opening the passage and relaxing muscles.
Seroflo Rotacaps 50mcg: Doctors prescribe Seroflo Rotacaps in the regular treatment of asthma, where a combination of beta-2 agonist and inhaled corticosteroid has been found to be inappropriate and in patients with COPD. It can be given to adults and adolescents over 12 years and older. One rotacap twice daily is sufficient to reduce coughing, wheezing, and breathlessness associated with asthma and COPD. The effects of this medicine may be noticeable after a few weeks. The inhaler drug must be used daily to be effective. It should not be given to relieve a sudden asthma attack. A sudden asthma attack can only be cured by the use of a quick-relief inhaler or a reliever medication.
Triohale Inhaler 200 Mdi: This inhaler drug combines three medicines, namely formoterol, ciclesonide, and tiotropium. Ciclesonide is a corticosteroid, which stops inflammation of the airways. Formoterol is a bronchodilator that causes the muscles to relax and make it easier for you to breathe. Tiotropium is an anti-cholinergic that widens the airways and makes breathing easy for you.
Budecort Rotacaps: Budecort Rotacap is a combination of budesonide and formoterol fumarate, which have different mechanisms of action in terms of asthma exacerbations. It can be considered as the maintenance treatment of asthma as prophylactic therapy in adult and paediatric patients of five years and older. It can also be given to patients requiring oral corticosteroid therapy for asthma. Do not use it for the relief of acute bronchospasm. The correct dose of Budecort Rotacaps should be used to maintain good asthma control.
Duolin Rotacaps: Duolin is a combination medicine containing Ipratropium and salbutamol. Doctors prescribe it to patients with chronic obstructive pulmonary disease (COPD) who have bronchospasm or are on a regular bronchodilator and require a second bronchodilator drug. Duolin Rotacaps should only be used for inhalation purposes only. Before using this medication, it is extremely important to know the administration process as it plays a crucial role in preventing and treating symptoms. The medicine is available in capsules that need to be placed in the Rotahaler device (a device used to deliver Rotacaps).
If allergic to any of these medicines, inform the health care specialist before use. You can prevent an asthma attack by preparing and following an action plan which includes ways to keep your respiratory condition under control and prevent attacks. These includes:
Know your triggers and try to avoid them
Follow your health care specialist's advice while taking asthma medications.
Keep track of your symptoms and be aware of the signs that might be getting worse.
Appropriate treatment is probably the key to getting your asthma under control; therefore, consult your health care specialist for the asthma medication to treat and prevent your symptoms.