Metronidazole is an antibiotic agent used in various health conditions like anaerobic bacterial infections, protozoan infections, Crohn's disease, and Helicobacter-associated gastritis. It destroys the germs that are responsible for causing the infection. The product is supplied in various forms like tablets and gels. The different form of Metronidazole has different side effects. Read below to learn about the common, serious, and rare side effects that can develop with each form of the antibiotic medication.
Side effects of metronidazole tablets:
Metronidazole when given orally as tablets are well tolerated. Some common side effects associated with gastrointestinal tract is nausea, which sometimes occurs along with anorexia, headache, diarrhoea, vomiting, constipation, abdominal cramping, oral mucositis, tastes disorders and epigastric pain. A metallic unpleasant taste is not normal. Patients suffering from Crohn's disease are at high risk of developing certain extraintestinal cancers. Pancreatitis may occur, however, which abated on withdrawal of metronidazole. If a patient is consuming alcohol during g the treatment, he/she may develop flushing, nausea, headache, vomiting, or abdominal distress.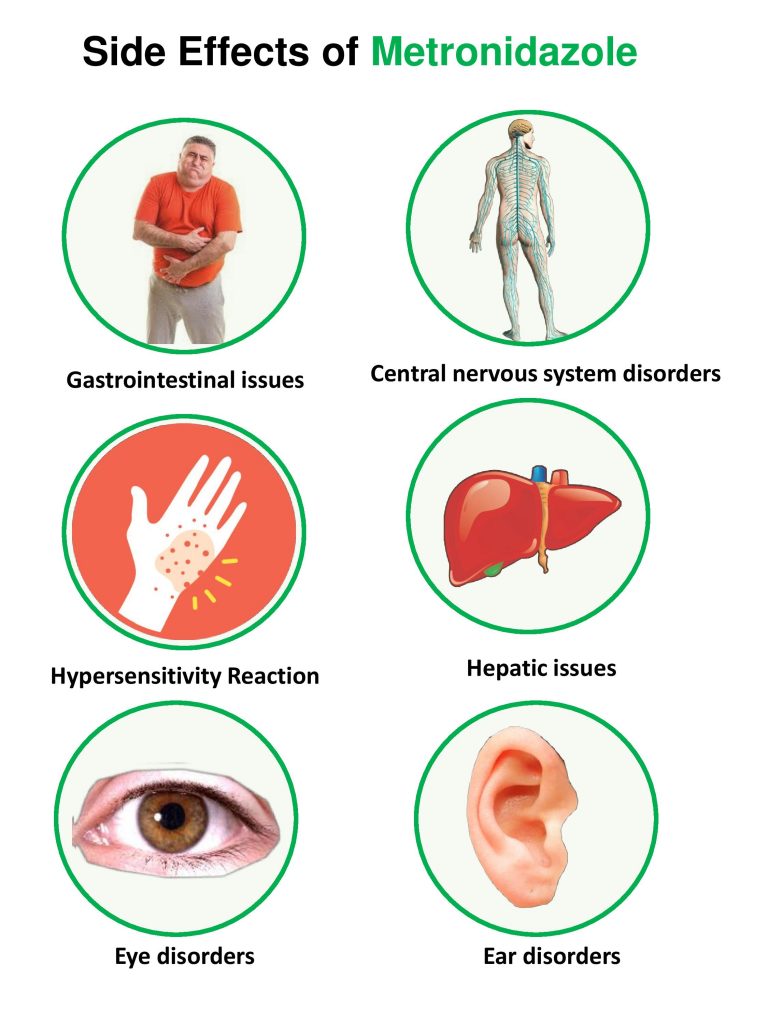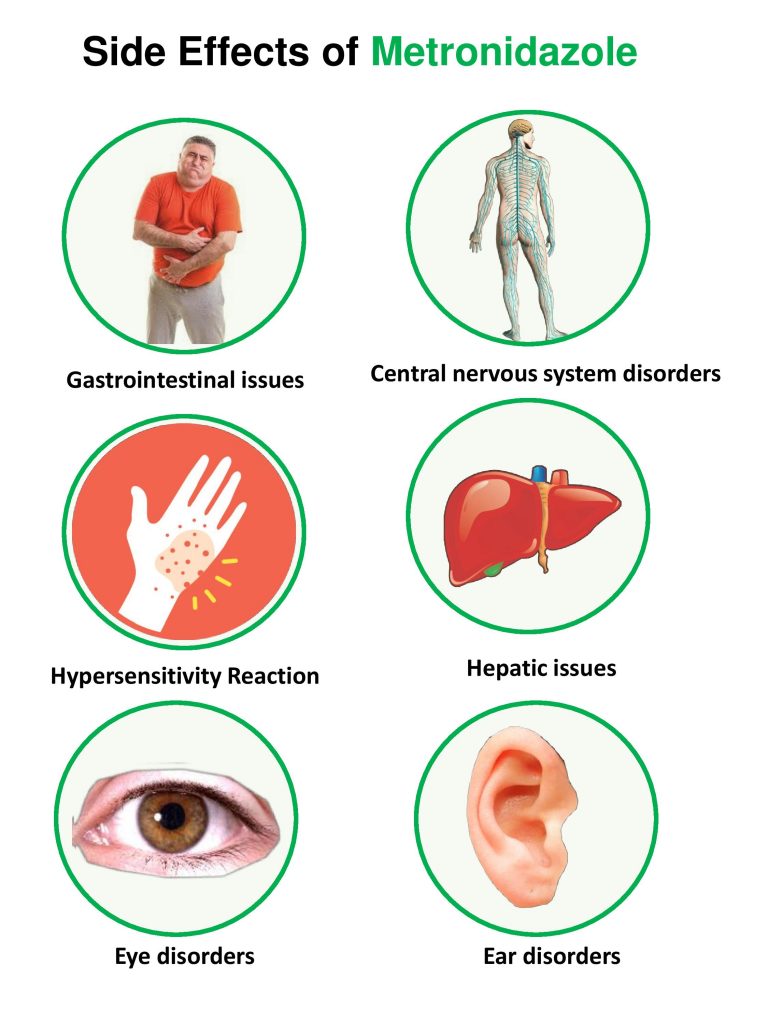 Patients may also experience glossitis, tongue discolouration, stomatitis, and a furry tongue. These unwanted effects may develop due to overgrowth of Candida, which may occur during effective treatment.
An individual taking metronidazole may experience hypersensitivity reaction like urticaria, angioedema, pruritus, rash, fever, anaphylactic shocks, and fever. One may also suffer from dryness of the mouth and nasal congestion. The antibiotic agent may also cause mild erythematous eruptions, as have fleeting joint pains. Toxic epidermal necrolysis and Stevens-Johnson syndrome may develop with the use of metronidazole.
Central nervous system (CNS) disorders-
CNS disorders, including convulsive seizures, vertigo, headache, dizziness, and incoordination may develop. Other problems like confusion and hallucinations have also been reported. There have been complaints of insomnia, depression, weakness, irritability, as well. Patients on metronidazole treatment may also experience ataxia, tremor, gait impairment, nystagmus, dysarthria, and confusion, which may disappear with the discontinuation of the medication.
With metronidazole, there is an increased risk of developing cholestatic or mixed hepatitis, liver injury, and an increase in liver enzymes has also been reported.
There are cases of liver failure that has been reported in patients taking metronidazole and another antibiotic agent together.
Eye problems including myopia, decreased visual acuity, changes in colour vision, and diplopia may occur with metronidazole.
Genitourinary tract issues–
Dryness of the vagina, cystitis, pruritus, vulva, s sense of pelvic pressure, and dysuria are associated with the use of metronidazole. Side effects such as polyuria, proctitis, pyuria, fever, incontinence, dyspareunia, and a decrease in libido may rarely occur. One may also develop a proliferation of Candida in the vagina.
A patient may experience leucopenia occasionally. There may be a rare case of bone marrow depression. There is a possibility of developing neutropenia, agranulocytosis, or thrombocytopenia.
Ear disorders, including tinnitus, impaired hearing or hearing loss have been reported.
Patients are advised to contact their healthcare specialist if any of the become bothersome and troubles you anyway.
The following two tabs change content below.